A Great Mineral and Vitamin Supplement that
Also Provides Phytonutrients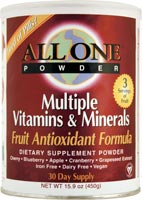 My recommendation is that you take a serious look at All One's Antioxidant Fruit Formula. This product provides a good blend of bio-available vitamins, minerals and phytonutrients.
Previously, I had been taking a national brand over the counter multivitamin that I bought at my local drug store. Shortly before recommending this All One supplement, I wanted to test it. I feel strongly about this product because the positive results I saw were almost immediate. I found that my skin would feel flushed and warm shortly after taking it for the first time. Within a day, I felt that I had much more energy and within a week, I saw subtle changes such as my skin becoming softer and less prone to dryness, increased stamina during exercise, and a more restful sleep. I am now taking this All One supplement in two equal doses – one with breakfast and one in a glass of juice after dinner.
I had previously been offering this product for sale on this site at $34.95 plus shipping. However, in order to offer you the best possible price, I am now referring you directly to this source offering wholesale pricing.
Not convinced?
Here is What I Like About the Product
Powdered Form
This product comes in powdered form. This has a couple of benefits:
It improves bio-availability of the nutrients. Many tablets do not break down properly in our stomachs and are passed through bowel movements relatively intact. Liquid and powdered supplements start entering your system in your mouth as they come in contact with your saliva, and are fully absorbed through the digestion process.
Powdered supplements allow you to scale the dosage to your daily calorie consumption. Daily mineral and vitamin requirement are based on consuming 2,000 calories per day. However, if you consume 2,500 calories per day, you should be increasing your daily dosage of vitamin and mineral supplements to compensate. The powdered form and concentration make is easy to adjust – simply adding an extra teaspoon of powder to compensate for the extra 500 calories consumed in a day.
Free of Fillers
Many products contain unnecessary fillers. This product is 100% nutrition and free of fillers such as yeast, gluten, added sugar, added sweeteners, added flavors, added colors, binders, and excipients.
Phytonutrients
Unlike many traditional mineral and vitamin supplements, this product contains phytonutrients in the form of extract of Cherry, Wild Blueberry, Apple, Cranberry, and Grape Seed.
Product Freshness
This supplier has convinced me that they manage their inventory, such that you are assured the freshest products – not ones that have been stored on a shelf till they are past their shelf life.
A Great Price
In all honesty, I would have loved to have continued selling this product directly. However, after putting this product on my site, I began looking around at various online resellers and found that my pricing was not as competitive as it should be. Moreover, I was reminded by a close friend that I started this site primarily to help people. In a rare moment of clarity, I decided that I really need to refer you directly to this supplier.
Here is the Nutritional Content
Supplement Facts


Serving Size: 4 Level teaspoons (15g)
Servings per container: 30

| | | | | | |
| --- | --- | --- | --- | --- | --- |
| | | Amount Per Serving | | % Daily Value | |

Calories
18
Total Carbohydrates
3 g
1%
Protein (from Rice)
1 g
Vitamin A (as Vitamin A Palmitate)
8,000 IU
160%
Vitamin A (as Beta Carotene)
7,000 IU
140%
Vitamin C (as Calcium Ascorbate)
1,000 mg
1,670%
Vitamin D (as Ergocalciferol)
500 IU
125%
Vitamin E (as d-Alpha Tocopherol Succinate)
400 IU
1,330%
Vitamin K (as Phylloquinone)
5 mcg
6%
Thiamin HCL (B1)
25 mg
1,670%
Riboflavin (B2)
25 mg
1,470%
Niacin (as Niacinamide)
100 mg
500%
Vitamin B6 (Pyrodoxine HCL)
25 mg
1,250%
Folic Acid (as Folate)
400 mcg
100%
Vitamin B12 (as Cyanocobaliamin)
25 mcg
420%
Biotin (as d-Biotin)
25 mcg
10%
Pantothenic Acid (as d-Calcium Pantothenate)
100 mg
1,000%
Calcium** (as Calcium Carbonate, Dicalcium Phosphate, Calcium Ascorbate and Kamut)
1,125 mg
110%
Phosphorus** (as Dicalcium Phosphate from kamut)
200 mg
20%
Iodine (as Potassium Iodide)
180 mcg
120%
Magnesium** (as Magnesium Carbonate)
200 mg
50%
Zinc** (as Zinc Oxide)
15 mg
100%
Selenium** (as Selenium Proteinate)
50 mcg
70%
Copper** (as Copper AA Chelate)
0.2 mg
10%
Manganese** (as Manganese Carbonate)
4 mg
200%
Chromium** (as Chromium AA Chelate)
50 mcg
40%
Molybdenum** (as molybdenum AA Chelate)
50 mcg
70%
Alanine
196 mg
*
Arginine
256.8 mg
*
Aspartic Acid
297 mg
*
Cystine/Cysteine
60 mg
*
Glutamic Acid
424 mg
*
Glycine***
162.5 mg
*
Histidine***
71 mg
*
Isoleucine***
135 mg
*
Lysine***
146 mg
*
Leucine***
274 mg
*
Methionine***
117 mg
*
Phenylalanine***
167 mg
*
Proline
170 mg
*
Serine
165 mg
*
Threonine***
123 mg
*
Tryptophan***
48 mg
*
Tyrosine
147 mg
*
Valine***
160 mg
*
Hesperidin Complex (citrus fruit)
25 mg
*
Lemon Bioflavonoids
400 mg
*
Para Amino Benzoic Acid (PABA)
25 mg
*
Choline (as Choline Bitartrate and Lecithin)
100 mg
*
Rutin
25 mg
*
Lecithin (as Soy Lecithin)
350 mg
*
Inositol
100 mg
*
Rice Bran
1,854 mg
*
Potassium (as Potasium Citrate and Alginate)
100 mg
3%
In a base of Papain, Betaine HCI, Kelp
3 mg
*
Other ingredients: Organic Green Blend 2g (Contains: Alfalfa Juice Powder 680 mg, Kamut Juice Powder 455 mg, Barley Juice Powder 455 mg, Oat Juice Powder 180 mg, Cruciferous Vegetable Juice Powder includes: Atlantic Kelp/Sea Dluse Powder 120 mg, Spirulina 65 mg, Cabbage, Kale, Parsley and Broccoli blend 45 mg.) Also contains Trace Minerals, Silicon, Boron, Silver and Nickel). Also contains Maltodextrin, Rice Protein Isolate, Slicon Dioxide, Trace Minerals, Silicon, Boron, Silver, Nickel.
FDA Disclaimer Statements contained herein have not been evaluated by the Food and Drug Administration. These products are not intended to diagnose, treat, prevent nor cure disease. Always consult with your professional health care provider before changing any medication.


Get ready to take The Natural Path to good heart health.


BY USING THIS SITE YOU ACKNOWLEDGE AND AGREE TO THIS MEDICAL
DISCLAIMER AND COPYRIGHT NOTICE